Speak 4 Clients
A 3-day intimate group program to create and deliver free talks that 
EARN YOU MONEY...EVERY TIME YOU SPEAK!
Let me guess...
You don't use 'speaking' in business because you don't know what you would talk about, or it hasn't generated revenue.
Speaking is a phenomenal way to serve more people, make more money and have a greater impact!
Speak 4 Clients is a robust & comprehensive workshop that prepares you to 
 Earn money... Every. Time. You. Speak!
What you'll learn and do...
Determine your core talk topic, aligned with your target market & niche.
Create catchy titles to get the attention of program directors AND get instant feedback.

Find and reach out to your ideal 20+ groups, businesses, and/or associations.

Learn exactly how to follow-up with our follow-up email templates.
Effectively outline your talk before the program even begins.
"I had my first presentation and secured three paying clients and $4,500 from one talk!
The power of speaking -- yeah, I get it now!"
In this WORKshop you'll...
Practice delivering the key parts of your talk...your open, close, creating the "need" and YOUR OFFER.


Receive feedback from Michael, Amy and your fellow Rockstar colleagues.


Practice it again, including creating FEELING and EMOTION, the keys to sales in an ethical and dignified manner!



Create and practice your "word for word" offer, so you can deliver it with confidence.

 

We break-down every step of the process. You'll end the program feeling confident, and excited to book and deliver talks!
What's Included
ARE YOU KIDDING ME?!? Look at how comprehensive and robust this program is!
Defining Six Types of Presentations
What Types of Groups Are Looking for Speakers
Free and Fee, the Pros and Cons of Each
Pros & Cons of Virtual and In-Person 
Finding the Groups That Fit Your Niche
Pitching Your Talk to Groups
Your PR Package
Confirming the Engagement
Sample Speaking Contracts
By the Numbers - How the clients and revenue shake-out
Your Title
Your Outline Parts 1 & 2
Creating Your Talk

Writing Your Talk

Filling the Room

Working the Room

How to Deliver to Secure New Clients!

Selling from the Podium - The Consultation

Selling from the Podium - Products & Services

Selling from the Podium - Your Newsletter, Blog, or Podcast

Selling from the Podium - Future Gig Referrals

Post-Talk Responsibilities

Recording Your Talks

Your "Speaking Package"
"HOLY SMOKES, you've covered everything that we need to grow our businesses through speaking!
The value of the "self study" alone is worth the investment of the entire course!"
Here are some important documents you'll get...
An outline that we used to generate $43,000 in one talk

Speaking contract templates to customize for your business

Our fee document…no more stuttering when quoting your fees
Do you struggle with writing RFPs? We've included one of ours!
Our word-for-word script on how to offer consultations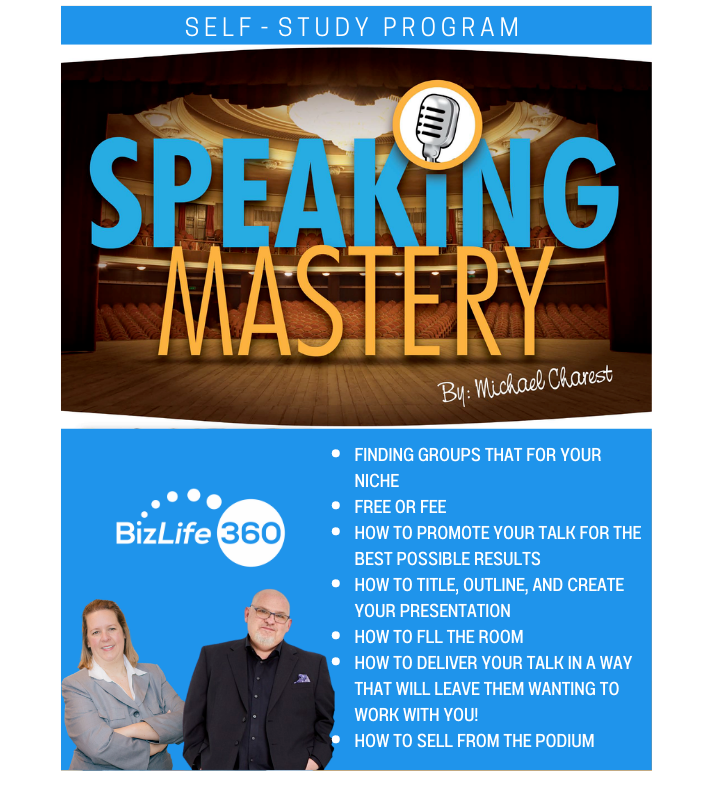 Extra Bonus!
You'll receive a comprehensive, downloadable self study book to reference forever
Investment
Note: This is not even close to an "expense."  It is truly an investment, GUARANTEED to earn you a return like no other business development strategy.
Most popular
One-Time Payment
$6,000
3-day workshop
Speaking contract templates
Fee document

RFP examples
Script for offering consultations
Self study e-book
3 Month Payment Plan
$2,000*
*PER MONTH
3-day workshop
Speaking contract templates
Fee document

RFP examples
Script for offering consultations
Self study e-book
ROI GUARANTEE!
You will get a Return On Investment by your 3rd presentation (if not sooner).

Please digest that. we're going to "kill it" for you. You have to do your part, but we are so confident that this works, we are guaranteeing it!
"Michael taught me so well that I did a 10-minute talk to my BNI group and secured 4 new clients and $9,000 from this one talk! "
Please Note...
We create a loving, supportive environment "with an EDGE." 
This is an intimate group, small enough for INDIVIDUAL ATTENTION, yet large enough to benefit from other talks and critiques. It is a  supportive, and positive environment. But/and... we don't mess around. We are going to give you constructive feedback and challenge you to do what it takes to make this happen. While the "target" is at least $4K in revenue per talk, it can be MUCH MORE. This one strategy can change your life. We assume you want that and so we will give you what you need!